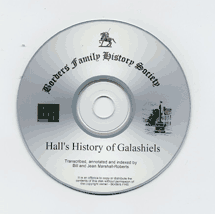 Available as a CD only. This is an electronic reprint of the famous book, The History of Galashiels by Robert Hall, first published in October 1898 in a limited edition of 425 copies for subscribers only. It's in PDF format which allows an extensive index and search facility to be used and by the use of hyperlinks it can be easily navigated. The original book had 601 pages including index of subscribers and illustrations. Copies of the original book are advertised from time to time, the last copy I saw, was advertised at £195 and was sold within a week.
CD price £12.00 plus postage. Weight 70g. See our
Publications Sales List
to buy.