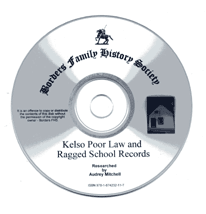 Contains two maps (around 1857), one of the town of Kelso, and another of the area of the Poor House and a 95 page text document all in PDF format. The text document contains information on over 400 Kelso families taken from the Poor Roll (and the records of the Kelso Poor House), prison records, Ragged School records and other sources. It was researched by the late Audrey Mitchell, one of our founder members, and past Chairman. She was well known as a genealogist and wrote many local social history books.
CD price £10.00 plus postage. Weight 70g.
See our
Publications Sales List
to buy.