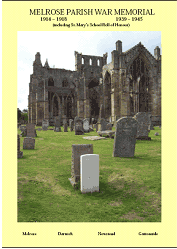 This lovingly researched book identifies each of the persons recorded on the Melrose Parish War Memorials in Melrose, Darnick, Newstead, and Gattonside.
It has a subtitle, 'The Men and their Stories', because for each of those listed on the memorials, there is a short biographical note of those named, and even of 5 men who should have been named on the Melrose War memorial, compiled from a variety of sources including military records, the census, newspapers, and local knowledge. Where possible, photos of the men are included. There is a surname index.
It covers both World Wars, and includes the Roll of Honour of St Mary's School, Melrose.
Surnames in the index: Allan, Anderson, Andrews, Babington, Bain, Barclay, Barton, Bell, Beveridge, Binnie, Black, Blackadder, Blake, Bowie, Boyd, Brown, Buchan, Bunyan, Calvert, Calwell, Carlyle, Chambers, Chapman, Constable, Cook, Crooke, Cruickshank, Curle, Currie, Darling, Davidson, Deans, Dick, Dickinson, Dodds, Dorward, Doughty, Douglas, Douglas-Hamilton, Dun, Dunlop, Dunn, Elliot, Evans, Fernie, Ferrier, Fleming, Fortune, Frew, Gibb, Gibson, Gifford, Gill, Gordon, Gray, Grigor, Hair, Hamilton, Hart, Hastie, Henderson, Hill, Hobkirk, Hogg, Holmes, Honeyman, Hopkirk, Hutcheson, Jardine, Keddie, Kennedy, Laidlaw, Lang, Lawrie, Lees, Leithead, Lockie, Lockton, Logan, Lorimer, Lowe, Lumgair, Lyall, Mack, Maclaren, Maclldowie, MacPherson, Mann, Matthew, McDiarmid, McDonald, McDougal, McGinnis, McIntosh, McMillan, McVittie, Mein, Middlemass, Millar, Mitchell, Montgomerie, Morrison, Morvo/Morow, Munro, Murry/Murray, Myers, Notman, Paterson, Paton, Polwarth, Pringle, Purdom, Purves, Rafferty, Ramsay, Redpath, Reid, Richardson, Riddell, Robinson, Romanes, Rosie, Ross, Rutherford, Sanderson, Scott, Sharp, Sheldrick, Shiel, Sladen, Smart, Smith, Spiers, Spottiswoode, Sproat, Steedman, Steel, Stewart, Telfer, Thompson, Thomson, Todd, Tulloh, Tully, Turnbull, Wade, Walker, Webb, White, Whitelaw, Wilson, Wright, Wynn, Young.
Researched and written by Major Trevor S Mills, RE (Rtd) and Mrs Fiona M A Mills.
78 pages including index and illustrations. Card Covers. A4 size.
ISBN 978-1-874232-09-2.
Price £7.00 plus postage. Weight 285g.
See our
Publications Sales List
to buy.